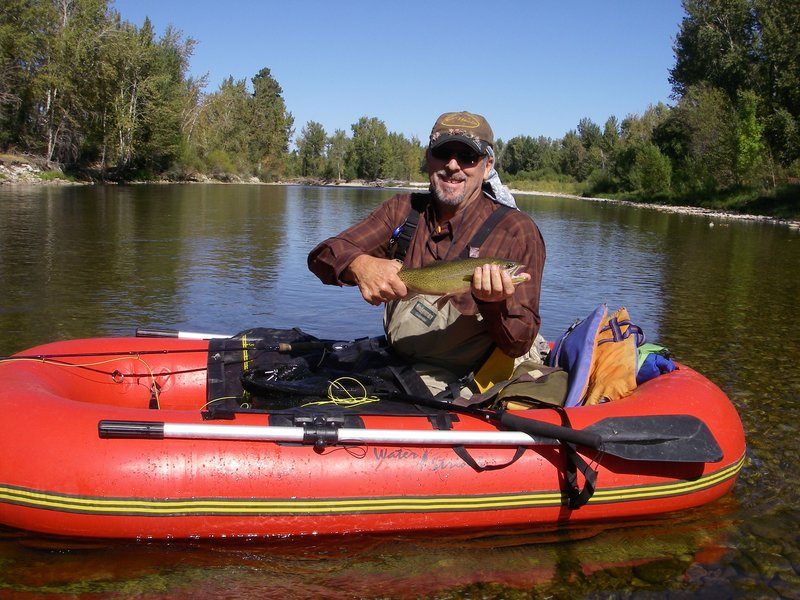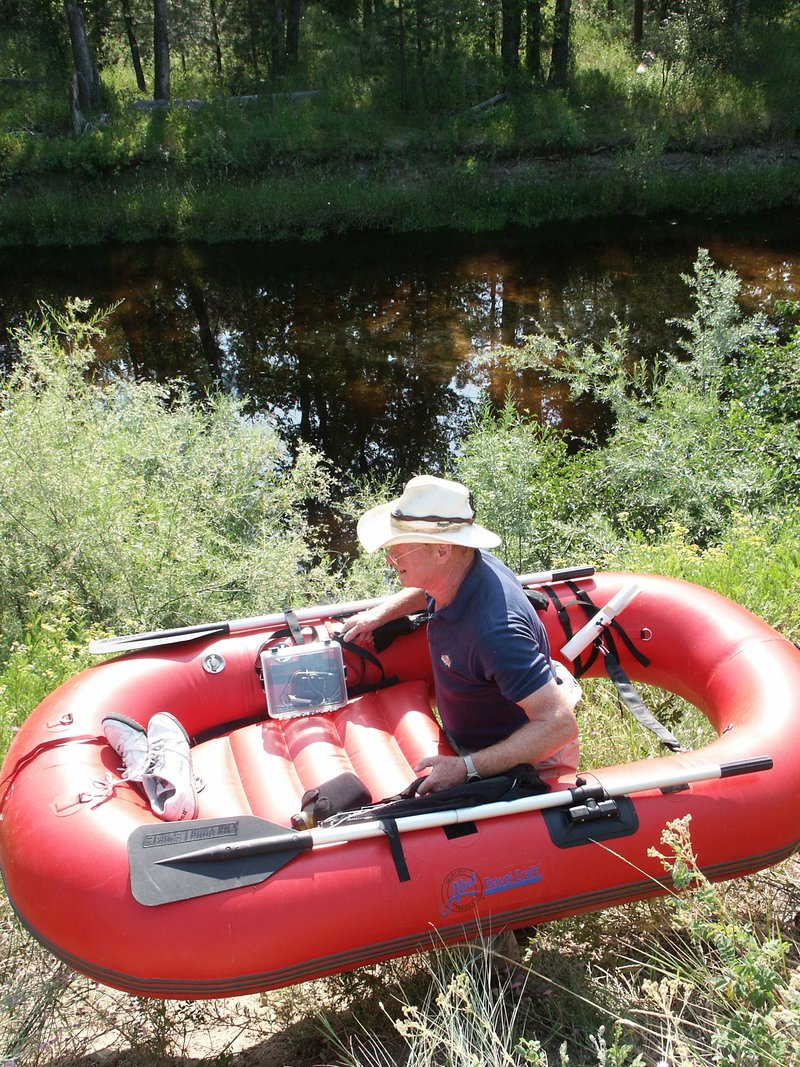 To many industry veterans, Dave is considered one of the "godfathers" of modern day fly-fishing and has been a renowned innovator and active participant in the industry for over 40 years.  He
grew up in Montana fishing and Hunting in the neighboring wilderness perfecting his talents on the great names such as the famous Blackfoot, Bitterroot and Rock Creek watersheds among numerous others.  In his early days as a Boy Scout, Dave discovered his passion and desire to know the outdoor life. 
Later in his life in the mid 1960's; Dave was involved in the start up of a group called the Federation of Fly-fishermen (FFF).  This was about the time when a rapidly growing generation of sportsmen started to invade the fly-fishing scene. Thanks to the FFF, and many other newly developed fishing clubs a great new interest in the sport began to develop.
During this period, Dave set up and started Umpqua Feather Merchants with Dennis Black.  Umpqua started to buy and import fly tying feathers which they then sold to the industry, which had developed a strong demand for quality products in this rapidly growing sport.  Today, Umpqua needs no introduction to any fly-fisherman and has become the leading vendor of flies worldwide with over a billion units sold last year. 
During that same period, Dave started teaching in the Fenwick Fly Fishing Schools which he continued to do for 15 years.  Fenwick packed them in and had from 30 to 60 people every weekend.  New opportunities developed as Dave became better known and he helped to start a company and a fly tying factory in Kenya which had the exclusive sales rights to the US market.  At that time, they had 167 tiers working and tied several million flies a year.  Dave sold flies to most of the big fishing supply companies like the Cortland Line Company, Orvis, Dan Baileys and many smaller fly shops in local areas.
In 1972 Dave started a Fly Shop called Creative Sports in California's Bay Area with a partner Andre Puyans.  Dave and Andre developed a strong following and grew Creative Sports sales figures to over five hundred thousand in 3 years.  Later the pair opened two additional stores also adding a wholesale supply division.
In 1975 Jack Oneill from Oneill wetsuits approached Dave to refine and market the concept of Neopreme waders, which were later introduced to the market by Dave changing the industry forever.
In 1980 Dave went to Bill Stutz a design engineer with a concept to create a superior fly reel.  The resulting Stutz Estuary fly reel was marketed through Orvis.  Later, Dave and Bill approached a Machinist Steve Abel in order to improve upon their present manufacturing process.  Abel manufactured an initial run of simplified reels as a signature model for Dave.  Ultimately, this marked the beginning of Abel Quality Products which has become an undisputed leader in the industry today.
Dave left the fly shop business in 1980 and went to work with the Orvis company as the West Coast Sales Rep and lead instructor of the of the Fishing and Hunting Schools in the area.  During this time he also helped the company by finding and designing new products that would fit into the Orvis market. 
In 1985 Dave went back to the retail side and started his own fly shop and wholesale warehouse and continued to supply the country with quality fly fishing products. 
In 1990 Dave helped set up the grading and dying procedures for Whiting Farms, the largest Genetic Hackle grower that supplies fly tying feathers to the world.  With Dave's experience he set-up the company to grade more than 300,000 pieces in one season.
Throughout the 1980's and 1990's Dave spent many years working as a group leader Organizing trips and taking anglers fishing all over the world in fresh water and salt water.  He started leading groups of anglers in 1967 and continues to do so.  He worked with Fishing International as a sales rep for 13 years part time and led many trips to now famous fly fishing destinations.  After making trips to Canada for Steelhead fishing, Dave started developing salt water experiences.  He was one of the first to put a Tarpon fly fishing trip together on the west coast of Costa Rica fishing the jungle river Rio Colorado.  He went to Panama for Sail Fish and then on to Andros Island, Belize and Christmas Island.  During this period, he received two World Records for Yellowfin Tuna caught on a fly. Those records still stand to this day.  Dave pioneered fishing travel to many other wonderful places like Argentina, Chile and has personally spent over 15 years exploring the clear streams of New Zealand, using helicopters to land in places where no man had walked.  All of these experiences have helped Dave to develop his concept and designs for would someday become the "Water Strider" his design for the ultimate personal fishing craft.
In 1991, Dave was recruited as the sales manager for the Tote-in-Float company in Missoula Montana.  Tote-in-Float manufactured an all new personal flotation device that revolutionized the way fishermen and sportsmen could access various water systems.  Tote-in-Float represented the beginning of what would become Dave's consuming passion… the design and development of human powered personal fishing vehicles.  The driving inspiration behind the Tote-in-Float concept was to provide a platform which outdoorsmen could use to explore water systems where generally only 3 man float boats or rafts could previously go.
In 1994 Dave set up a factory to build an improved boat inspired by the Tote-in-Float. He used his extensive experience and knowledge of the strengths and weaknesses of the other boat to design the much improved "WaterMaster" his concept boat that featured stronger materials, better floatation and improved design and handling capabilities.  Dave began to market and sell the WaterMaster product which was immediately recognized by area sportsmen for its extraordinary capabilities.
In 1996 Dave started to design the third generation.  The all new and patented;
"Water Strider" personal water craft.  He set up a New Zealand manufacturing plant at Incept Marine to build the product for WaterStrider.  Incept Marine is one of the world's leading raft manufacturers in the world today, with a 15,000 sq ft factory that  uses computers to precisely cut Water Strider components to perfection.  Special new fabrics and assembly procedures were designed and have made Water Strider the leader in quality and functionality in the kickboat industry.  It is the strongest and lightest product in its class and was marketed by Abel quality products as the Abel Travel Craft or ATC.  Today, Water Strider has regrouped and has taken the license back to market the Water Strider as its own product.  The Water Strider is the perfect companion.  You can grab it and go to virtually any river in the world and have your own personal experience for just the cost of transportation.